The CubiQ ™ USB 2.0 DVI CS762A KVMP ™ Switch marks a revolutionary new direction in the functionality of KVM (Keyboard, Video, Mouse) switches by combining a 2-port KVM switch with a 2-port USB 2.0 hub and at the same time offering a interface for digital monitors (DVI). The CS1762A is also equipped with ATEN's new Video DynaSync ™ technology, which optimizes resolution, and ignition detection, which means that if a computer is turned off, the CS1762A automatically switches to the next computer on.
As a KVM switch, it allows access to two computers from a single console with a monitor and USB keyboard and mouse. Thanks to the USB 2.0 hub, it allows each computer to access the connected devices in turn.
Main features
One console controls two DVI computers and two other USB devices
Hub with 2 USB 2.0 ports supplied
Fully compliant with USB 2.0 specifications

Computer selection using the front panel buttons, hotkeys and mouse

With audio transmission: the full range of bass offers a magnificent experience with 2.1-channel surround sound systems

Cross-platform support - Windows, Linux, Mac and Sun
Supports widescreen resolutions
Superior video quality - 1920 x 1200

Independent switching of KVM control, USB and audio

Support for digital and analog DVI monitors - fully compliant with DVI specifications
HDCP compatible

DynaSync ™ Video: the exclusive ATEN technology that eliminates display problems at startup and optimizes resolution

Power On Detection: If a computer is turned off, the switch automatically switches to the next computer turned on

The console's mouse port emulation / bypass feature supports many multi-function mouse and mouse drivers

Complete keyboard emulation for an error-free start

Mac / Sun keyboard support and emulation *

Multilingual keyboard mapping: supports English, Japanese and French keyboards

Automatic switching mode for monitoring all computers
Updatable firmware

* 1. Emulation of Mac / Sun keyboards through key combinations of the PC keyboard.
2. Mac / Sun keyboards work only with their respective computers.
Example of use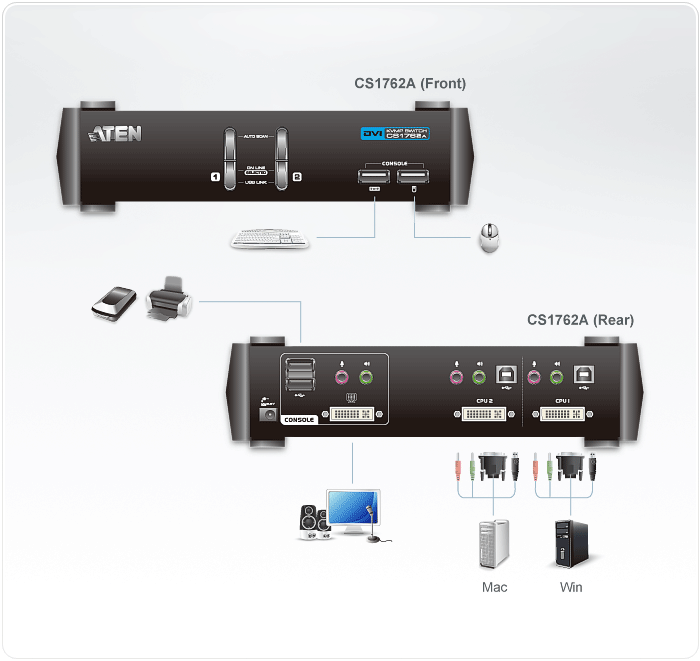 Specifications
Computer connections
2
Selection of the door
Front panel buttons,
shortcut key, mouse
Connectors
Console connection ports
Keyboard
1 USB female type A
(white, front panel)
Video
1 DVI-I female (white)
Mouse
1 USB female type A
(white, front panel)
Speakers
1 female mini stereo
(green, back panel)
Mic
1 female mini stereo
(pink, back panel)
KVM doors
Keyboard / Mouse
2 USB type B female (white)
Video
2 DVI-I female (white)
Speakers
2 female mini stereo (green)
Mic
2 female mini stereo (pink)
Supply
1 DC connector
USB hub
2 USB type A female
(black, rear panel)
Switches
selected
2 buttons
LED
Online / Selected
2 (orange)
USB connection
2 (green)
Emulation
Keyboard / Mouse
USB
Video
1920 x 1200
Switching interval
1-99 sec. (default 5 sec)
Electric consumption
CC5.3V, 9.0W
Environmental conditions
Operating temperature
0 - 50 ° C
Storage temperature
-20 - 60 ° C
Humidity
Relative humidity from 0 to 80%, without condensation
Physical properties
Homes
Metal
Weight
0.73 kg
Dimensions (W x D x H)
21.00 x 8.70 x 5.50 cm
1 x CS1762A KVMP ™ USB 2.0 DVI switch
2 x 2L-7D02U Single Link DVI-D USB KVM Cable Set (1.8m)
1 x 0AD6-1605-24EG power supply
1 x user guide